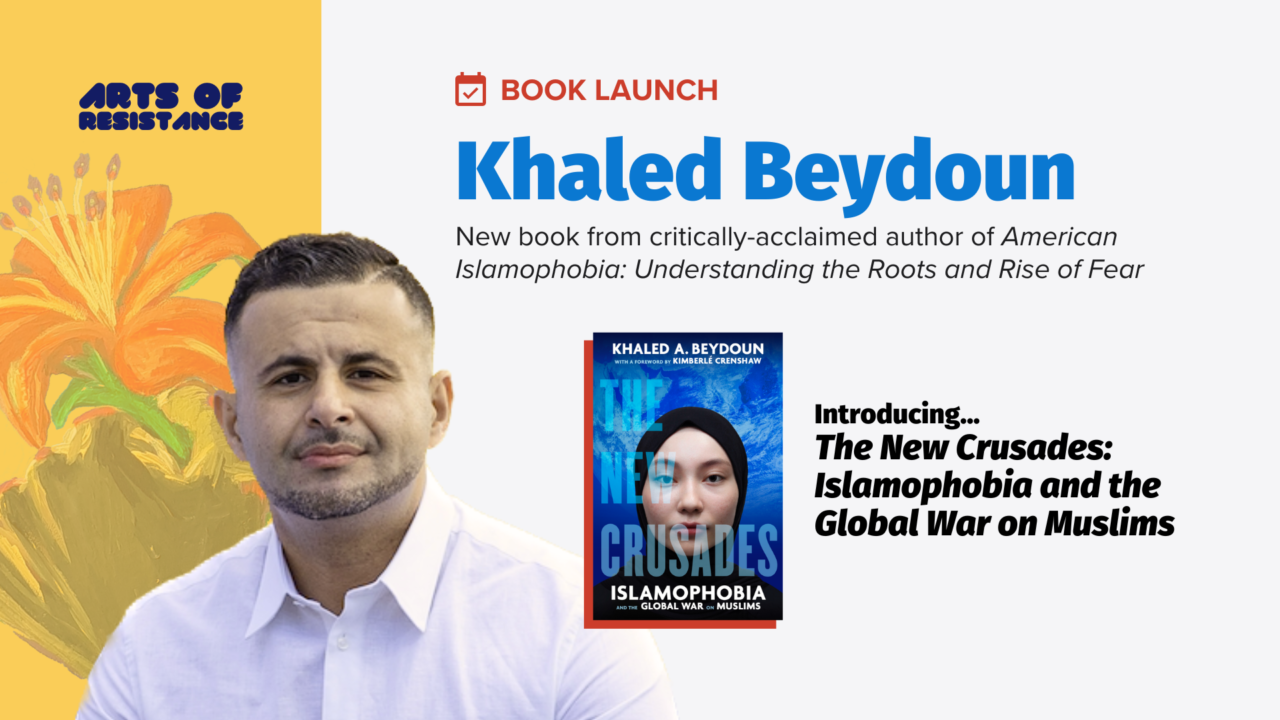 Cancelled: Khaled Beydoun - The New Crusades | Netherlands Book Launch
Arts of Resistance is inviting Khaled Beydoun – leading scholar on Islamophobia, civil liberties and national security and anti-terrorism law – for the launch of his new book: The New Crusades: Islamophobia and the Global War on Muslims. He will enter into conversation with Sheher Khan and Fitria Jelyta of the Netherlands, to also explore how his work connects to our local context here in Amsterdam.
This will be professor Beydoun's only book presentation in the Netherlands, so make sure to be there. The event is free of charge, but registration via Eventbrite is required. Books will be available for sale during the book launch. Get it signed from Beydoun on the spot!
About The New Crusades:
"The New Crusades is an intersectional milestone. It lucidly illustrates how converging systems of subordination, power, and violence related to Islamophobia are experienced across the globe."—Kimberlé Crenshaw, from the foreword
The first book to examine global Islamophobia from a legal and ground-up perspective, from renowned public intellectual Khaled A. Beydoun.
Islamophobia has spiraled into a global menace, and democratic and authoritarian regimes alike have deployed it as a strategy to persecute their Muslim populations. With this book, Khaled A. Beydoun details how the American War on Terror has facilitated and intensified the network of anti-Muslim campaigns unfolding across the world. The New Crusades is the first book of its kind, offering a critical and intimate examination of global Islamophobia and its manifestations in Europe, Asia, the Middle East, and regions beyond and in between.
About Khaled Beydoun:
Professor Khaled A. Beydoun is a law professor, author and public intellectual. He serves as a law professor at Wayne State University, a Scholar-in-Residence at the Berkman Klein Center at Harvard University, and Associate Director of the Damon J. Keith Center for Civil Rights in Detroit. Professor Beydoun is author of the critically acclaimed book American Islamophobia: Understanding the Roots and Rise of Fear, co-editor of Islamophobia and the Law – published by University of Cambridge Press, and author of The New Crusades: Islamophobia and the Global War on Muslims.
In addition to his academic and popular writing, Professor Beydoun has mounted a broad following on social media. He currently has 265,000 followers on Twitter, 548,000 followers on Instagram, and tens of thousands more on Facebook, Substack, and other digital platforms. He is widely regarded as one of the leading public voice on identity matters tied to Arab, Middle Eastern, and Muslim identity in the world.
About the Other Speakers:
Fitria Jelyta is a journalist and spoken-word artist. She mainly writes about the Dutch colonial past in Indonesia and about Muslims in the Netherlands. She is currently working on a book about her family history of anti-colonial voices in Indonesia. Fitira will be the moderator of the event.
Sheher Khan (DENK) has been a member of the Amsterdam City Council since 2018. Since 2022 as group chairman. His issues have included the Cornelius Haga Lyceum, the Ait-Taleb affair and fighting anti-Muslim racism.