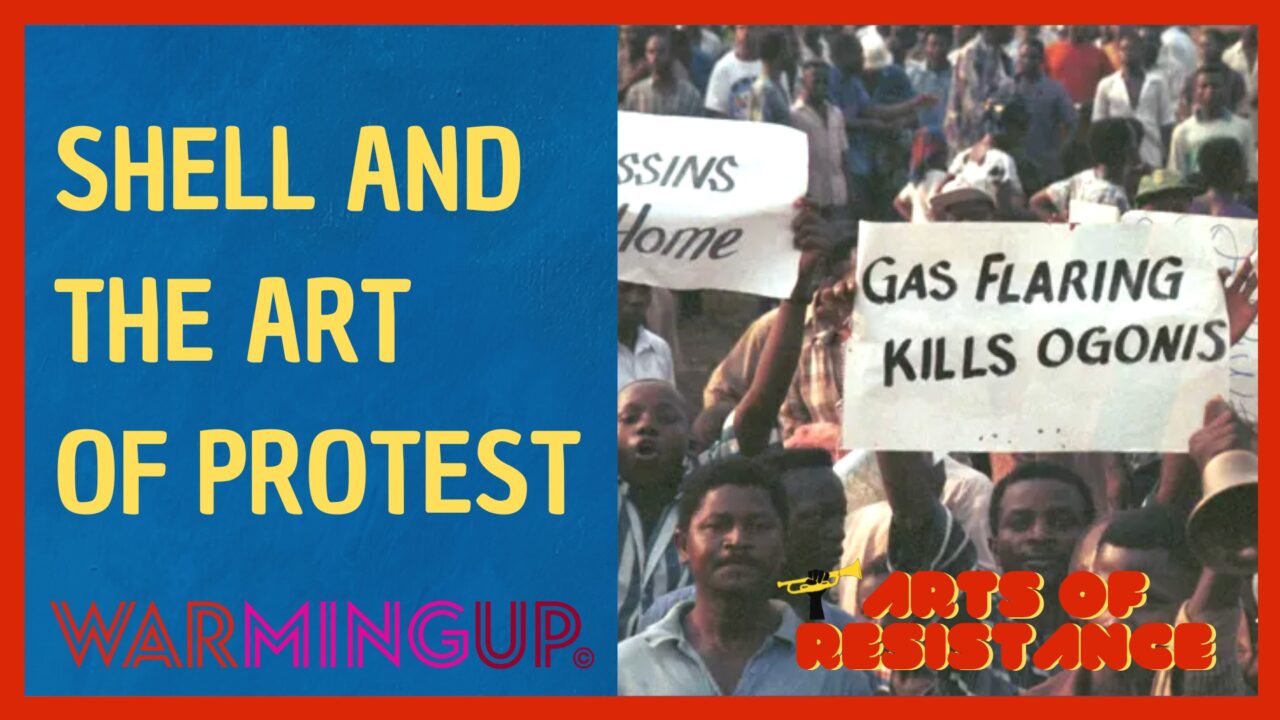 Shell and the Art of Protest: Brazil
Date: 05-11-2023, 20:00-21:30
Shell & the Art of Protest is a series of programs that reflects on the impact of Shell in different countries. In this specific program we look at Brazil together with artists, speakers and activists.
Voertaal: Engels

When people think of Shell, they usually think of oil. But in Brazil, Shell claims to be a leading player in 'green' energy. What's up with that? Shell's joint venture Raízen produces Ethanol fuel on a large scale, resulting in monocultures of sugar cane plantations stretching across the Brazilian landscape. In the sugar industry we still see the shadow of Portuguese and Dutch colonialism in Brazil, with persistent slave labor and great pressure on Indigenous land rights. But Shell is far from the only colonial player. From Western mining companies to Dutch soy imports, Indigenous peoples in Brazil continue to be threatened from all sides. The same Indigenous peoples who protect 80 percent of the planet's biodiversity worldwide on their soils, which covers only 20 percent of the earth.
During this evening we will place Shell in the colonial past and present. Expect traditional resistance music and in-depth conversations, with researchers, activists and artists, from the front line in Brazil to the diaspora here in the Netherlands. Our guests are: 
MARCELA ELENA VARCONTE
Afro-indigenous descendant woman, trained in social sciences. She works in the field of human rights, as a researcher, educator, social and cultural organizer. Marcela currently works on questions around environmental racism and climate justice writing official reports and claims on non-monetary valuation of reparation processes, implemented by trans-national companies, after socio-environmental catastrophes. In her practice, she maintains an intense dialogue with social movements to strengthen Maroon traditions and communities' resilience capacity. She is part of the group Cachuera! -collective that practices and archives afro-brazilian traditions in Southeast-Brazil, since 2006. Marcela believes that, as a foundation for life, ancestry and culture work as a vehicle-vector for social transformation.
THAIS DI MARCO & TARIM NDUMA FLACH 
Marcela will be translated and supported by Thais Di Marco, artist based in Amsterdam and Egbomi born in a Candomblé community – called Redandá – in Cipó-Guaçú – São Paulo – Brazil. Together with Tarim Nduma Flach they will contribute to the event by singing 3 songs by Master Daniel Revendo – Thais and Marcela's drum master since young age – currently living in Aruanda, the land of the enchanted ones. The songs talk about the permanence of all the people (s) in diaspora in their lands and praise the planet Earth.
VANDRIA BORARI
Vandria Borari, is an indigenous leader from Alter do Chão, in the Lower-Tapajós region of the Amazon. An activist and ceramic artist, she is part of the As Karuana (IG: as_karuanas) indigenous women's collective that, through music, sings in defence of rivers, forests and indigenous rights. She is also a member of the Kuximawara Association of indigenous women artisans and artists in Alter do Chão. With a background in law, Vandria provides legal advice to people in the Amazon, and has lectured on Amazonian Indigenous peoples, global agribusiness, and the authoritarian governments across Europe.
DIANA QUIROZ
Diana Quiroz works at Profundo, researching international commodity chains and exposing human and labour rights violations. One of the central themes in her work focuses on Europe's energy transition and its implications, highlighting concerns about its potential to perpetuate the exploitation of bodies-territories while offering limited solutions to the climate crisis. She has recently co-authored a report on the impact of Shell/Raïzen and the Brazilian biofuel industry on the Amazons, Indigenous peoples and labour rights in Brazil
ABOUT 'SHELL AND THE ART OF PROTEST'
Shell & the Art of Protest is a series of programmes in which we give the stage to artists from different countries to reflect on Shell's role in their countries. We reflect on climate justice and the colonial past and neo-colonial present in these countries. The programmes are curated by Arts of Resistance. Arts of Resistance is a collaboration between Aralez, Afrogrooves, Afrispectives and Linangan. Together, they form a community of artists and social movements that strengthen each other and want to move the world towards a fairer future.

During Warming Up Festival 2023, we reflect on Shell's impact in the countries of: