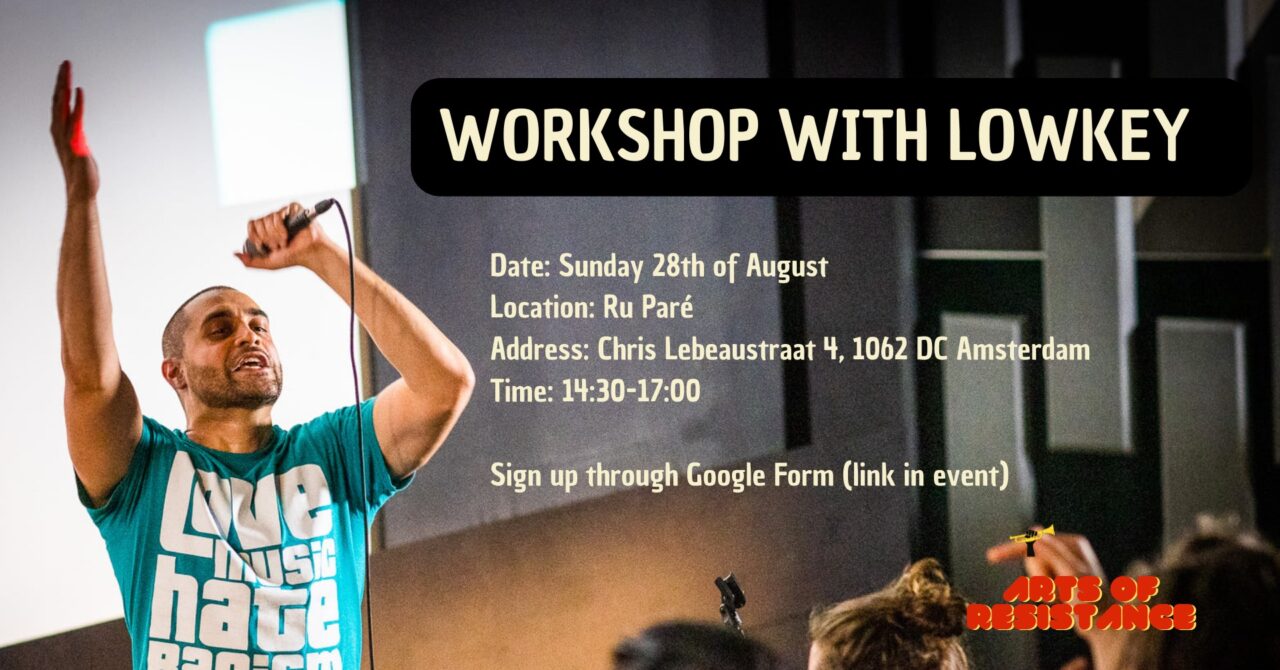 On Sunday 28th of August, UK rapper Lowkey will give a workshop, one day after his performance at the Melkweg during the festival 'Cultures Against Imperialism', organized by Arts of Resistance. Through this form you can register for the workshop.Participation is free of charge, but there will be a limited amount of spots available. You will receive an email with confirmation and more info about the workshop.

Workshop info: 
From Pain to Power and Trauma to Triumph: How music can channel personal pain into collective power
Lowkey and Karim Mussilhy will work with participants to develop their pain into chains which connect them to others in political struggle. The workshop will entail discussion, lyrical exercises and creating of original work, with time to perform towards the end of the session. This workshop will be facilitated by Lowkey and Karim Mussilhy.

Lowkey is one of the UK's most potent and electrifying rappers. A towering figure of the scene who renews the old tradition of conscious hip-hop activism for the war on terror generation. Fusing politically charged lyrics and deft dissection of topics such as race, war, global poverty and politics with anthemic choruses and unrelentingly energetic performance, Lowkey commands a keen and growing legion of followers. Lowkey is known for his Palestine solidarity activism and anti-war lyrics and has recorded with underground hip-hop legends such as Canibus, Dead Prez, Immortal Technique and Akala, performing to crowds everywhere from Glastonbury and Trafalgar Square to Germany and Amsterdam. Karim Mussilhy is the Vice Chair of Grenfell United, an organization championing the rights of the community surrounding the Grenfell tower, which burned down in 2017 due to deliberate corporate and state negligence, killing 72 people. Music has been a part of the movement, leading to multiple songs and video-clips addressing state and corporate culpability for the deaths in the community.