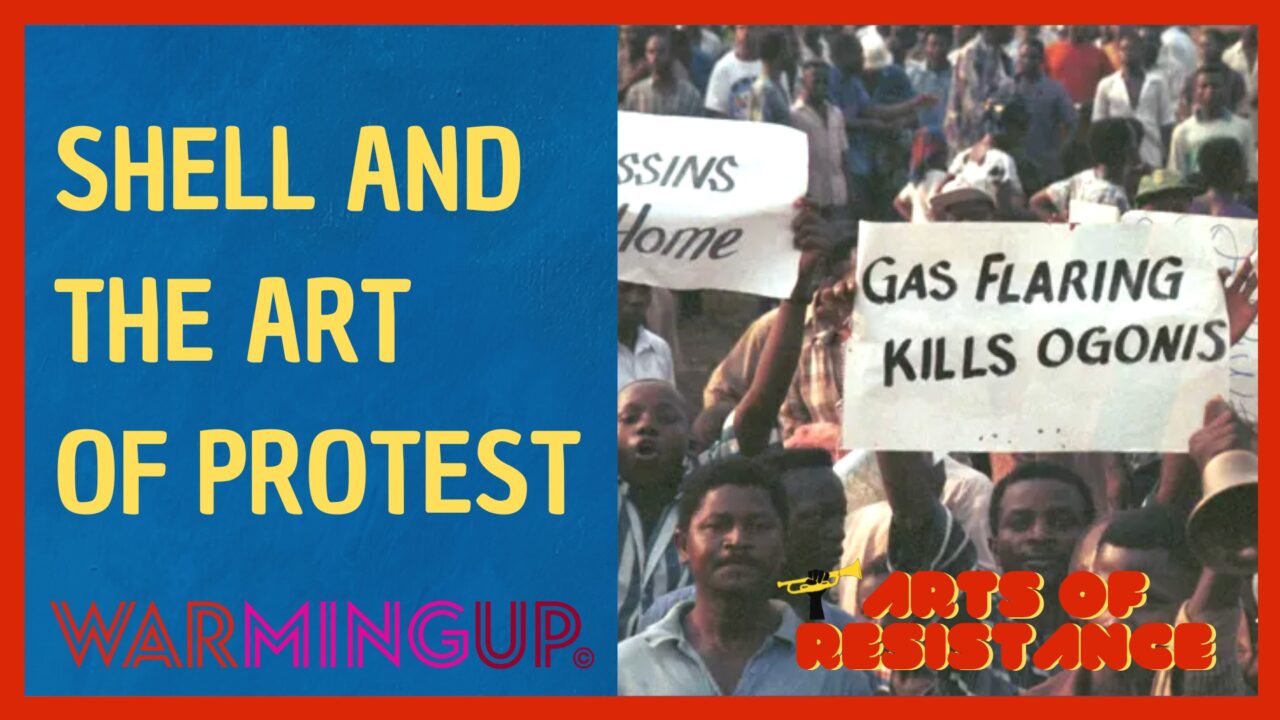 Shell and the Art of Protest: USA
Date: 04-11-2023, 19:00-21:00
Shell & the Art of Protest is a series of programmes reflecting on Shell's impact in different countries. In this particular programme, we look at the USA together with artists, speakers and activists. Our guests are Sandra Ball, Salomé Attias en Chihiro Geuzebroek. 
Voertaal: Engels.

How could climate justice look like? Enter into a participatory circle of justice in which we theatrically explore through improvisational theater and playful audience participation how to name, punish, repair and restore all relationships after the deepest grief of losing so much health and so many lives through environmental damage. In this immersive theatrical session, we work with the audience to find ways to address needs and learn from the history of harm to arrive at more beneficial solutions.
Inspired by the recent news report that Shell must pay 10 million in fines for exceeding pollution limits at the Beaver County cracking plant. Meanwhile, the people who are sick and possibly dying are not included in the verdict if remedy for the community is not the focus. And it's not as if this is the first time. Shell has been harming land and local people in the U.S. since 1913. It seems there is a justice system, but no justice. Time for creative restorative justice through role-play and role-modeling. 
ABOUT SANDRA BALL 
Born in the Midwest. Studied in New York City. Sandra left the US in the 80s to volunteer in the peace movement. She was planning to return two years later. She never left. Now, forty years later, Sandra speaks fluent Dutch and has worked in leadership positions and is now trainer, facilitator and co-founder of the Lowlander Project, the first training center for organizing in the Netherlands. Her dream is to infect Dutch social movements with the importance of organizing.
ABOUT SALOMÉ ATTIAS
Salomé Attias is a shape-shifter in the world of creativity: performer, improviser, trainer, storyteller & creative advisor. Her background is an eclectic mix of architecture, urbanism, political science, and literature, allowing her to view the world through a kaleidoscopic lens and translate complex systems into stories. 
Off stage, you can find her taking the streets alongside Extinction Rebellion, a global grass-roots climate and ecological movement. Her latest creative focus explores comedy and live performance's role in countering climate inaction and supporting non-violent direct action. She believes in the power of collective imagination, play and stories to radically change us and the world. 
ABOUT CHIHIRO GEUZEBROEK
Dutch/Bolivian Chihiro Geuzebroek is committed to restoring our relationship with the earth. She does this through civil disobedience, spoken word, audiovisual productions and her great love: protest music. Chihiro is co-founder of the Aralez Foundation and part of the Sound of Climate Justice Band.
ABOUT 'SHELL AND THE ART OF PROTEST'
Shell & the Art of Protest is a series of programmes in which we give the stage to artists from different countries to reflect on Shell's role in their countries. We reflect on climate justice and the colonial past and neo-colonial present in these countries. The programmes are curated by Arts of Resistance. Arts of Resistance is a collaboration between Aralez, Afrogrooves, Afrispectives and Linangan. Together, they form a community of artists and social movements that strengthen each other and want to move the world towards a fairer future.

During Warming Up Festival 2023, we reflect on Shell's impact in the countries of:
COMBI TICKET
After the talk 'Shell and the Art of Protest: USA' the performance Activist Songversation will take place. Would you like to attend both events? Get your combi ticket €15 here.