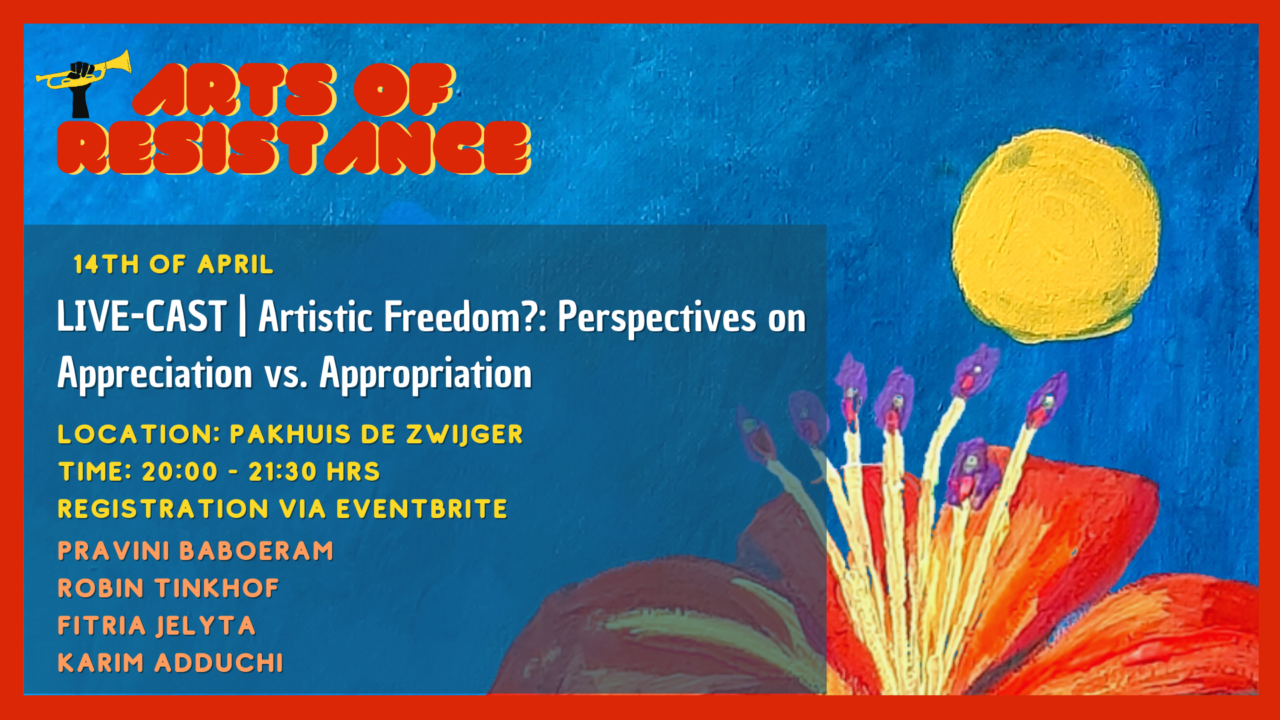 Live-cast│Artistic Freedom?: Perspectives on Appreciation vs. Appropriation
Location: Pakhuis de Zwijger
Cultural appreciation or cultural appropriation? What do these terms mean and how do you draw the line between these two? What can we do to put cultural appropriation on the agenda, fight against it and eventually, prevent it? And also,. what are healthy examples and ways of collaboration when it comes to cultural appreciation? And how can cultural appreciation help build coalitions in resistance movements? In this programme, Arts of Resistance will dive deeper into the themes of cultural appropriation vs. cultural appreciation and reflect on this subject from different art disciplines. The programme will consist of panel discussions, a screening of short audio & video fragments, a Q&A with the audience and a music performance.
Lineup:
Pravini Baboeram
Karim Adduchi
Robin Tinkhof
Fitria Jelyta
Fitria Jelyta (1991) is a journalist and spoken-word artist. She mainly writes about the Dutch colonial past in Indonesia and about Muslims in the Netherlands. She is currently working on a book about her family history of anti-colonial voices in Indonesia.
Robin Allesandra Tinkhof a theatre teacher and director from Rotterdam. She believes that there is allot of beauty in stories and that they possess the power to making people feel connected to each other, showing different perspectives and to make each other think. In her teaching she is always looking for material from the experiences of her students. What do they have to tell her and the world? In her theatre-making she profiles herself as a documentary/autobiographical maker. She combines existing stories with stories from herself or her actors.
Pravini Baboeram is an artist and activist, creating art to contribute to social change. As an independent artist she has set up her own label Pravini Productions, that has produced 5 albums, 6 singles and 5 international tours. She is co-founder of action committee Holi is not a Houseparty, a campaign against cultural appropriation of the Hindu spring festival Holi, and initiator of the Anti-racism Voting Guide. In addition, she led the campaign Tetary Must Rise, a crowdfunding campaign for the replacement of the statue of colonizer Barnet Lyon by the Hindustani warrior of resistance Janey Tetary. Pravini also set up Indian History Month to celebrate stories and contributions of people from the Indian diaspora. In 2019 she released her album and documentary "The Uprising", a film about the anti-racism movement in Western Europe.
Karim Adduchi is an illustrator and fashion designer who grew up in the mountains of Imzouren, Morocco. He moved to Spain and completed an art education at the University of Barcelona. And then moved to Amsterdam to further his education. Following an urge to express through fashion, he decided to showcase his personal story and his heritage in a transparent way. After showing his first collection, he received much attention from the press, and his story became an example of self-expression and globalization.