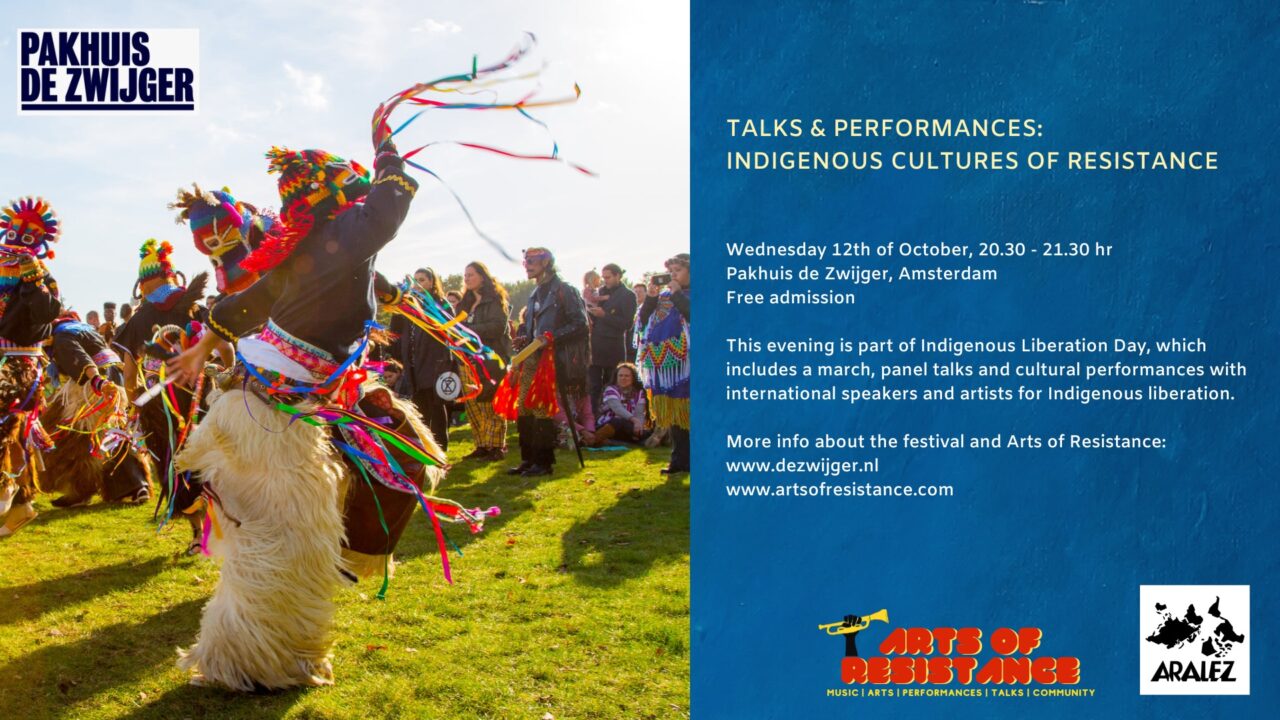 Talks & Performances: Indigenous Cultures of Resistance
Location: Pakhuis de Zwijger
Join us
for an hour of talks and performances about Indigenous cultures of resistance: including Indigenous Filipino dance, Aymara flute music and Fulani Hip-hop. The program is part of Indigenous Liberation Day Festival (free entrance): 
https://dezwijger.nl/progr…/indigenous-liberation-day-2022
The largest holocaust in history
was perpetrated against the indigenous people of Abya Yala, better known as the America's, with an estimated 175 million people killed by direct violence and deliberate European strategies of starvation and disease. In other parts of the world, too, from Mauritania to the Philippines, Indigenous peoples face violence and oppression from the nation-state, a legacy of European colonization. Yet indigenous struggles and movements are still alive and continue to fight back. There are still an estimated 400 million indigenous peoples worldwide, comprising 5 percent of the global population defending 85 percent of the world's biodiversity. These communities are on the frontlines of resistance against international mining, logging and oil companies.
Rooted in cultures with a deep respect for life, the stories, dances and songs of Indigenous communities offer different cosmovisions for the future of our planet. From traditional dances from the Philippines fostering a life-affirming community to Aymara artists reclaiming their roots with traditional flute music. During this live-cast, we will dig deeper into the cultural resistance of indigenous communities. The program will consist of both cultural performances and talks with Aymara flute player Roberto Callisaya Hilara, dancer and co-founder of MABAIKAs Foundation Myra Collis and Fulani hip-hop artist and cultural organizer Yero Gaynaako.
About the Speakers/Performers
:
Yero Gaynaako is a rapper and human rights defender from Mauritania, who was forced to flee to the Netherlands as a political refugee. An artist with razor sharp lyrics on the plight of his people in Mauritania, with a raw delivery on old-school boom-bap beats. Yero sings in Fulani, a language that is spoken by more than 50 million people in over 18 countries on the African continent. He is an ambassador of Fulani culture. Yet Yero is also an activist, public speaker, researcher and festival director of Welooti, one of the largest festivals of West-Africa. In addition to his artistic productions, Yero gives lectures and organizes events on human rights and artistic rights in Mauritania and beyond.
Myra Colis is an advocate of Indigenous People's empowerment and cultural preservation through documentation and knowledge transfer. Being an Indigenous person herself, she supports solidarity campaigns for justice and peace in the Philippines, including the recognition of Indigenous peoples (IP) rights. Myra is the Founding Chairperson of MABIKAs Foundation NL. In her words, founding MABIKAs is a great joy and privilege because it enables her and fellow IPs from Philippine Cordillera region to relive their Indigenous selves, sharing common values and practices that keep reminding them of their roots. Unfortunately, many Indigenous peoples in the Philippines have been political prisoners, criminalised or otherwise persecuted or, even worse, murdered when they resist the forceful displacement of corporations.
Roberto Callisaya Hilara Flute is an Aymara Bolivian multi-instrumentalist. He is a self-taught musician, teacher, composer, builder of bamboo flutes, dancer and storyteller, who plays all the Bolivian wind instruments such as sampoñas (toyo, sanka, malta and chuli), flutes (quenacho, quena and quenachillo) and pre-Columbian native instruments such as sikuri italaqui, tablasiku and kjantu. Roberto left his birthplace in the Bolivian Andes at a very young age, and has been living in the Netherlands for some time. Together with his brother, who still lives in Bolivia, Roberto set up Yatiyaña, a foundation that promotes traditional culture and social projects. Yatiyaña is an Aymara word that means "communication and passing on."
Indigenous Liberation Day Festival & March
:
This event is a collaboration between Arts of Resistance and Aralez, part of the activities surrounding Indigenous liberation Day. On October 12th, Aralez is organising a day full of activities as part of Indigenous Liberation Day: a solidarity march, Mapu commemoration and solidarity ceremony, a 1492 people's tribunal, cultural performances and panels. Together we reflect upon on the day that Columbus invaded Abya Yala (the American continent) in 1492. A date that marks the symbolic beginning of European colonialism. Resulting in the break-down of the right to self-determination, identity and culture of Indigenous People's worldwide. Indigenous land defenders are still displaced and killed; rivers and environment polluted; and land being colonised for large multinationals. The result is the current climate crisis. Therefore, it is time for reparations, justice and decolonisation! This festival offers a platform for reparatory perspectives on the climate crisis, inter-generational healing, cultural values, and solidarity. Find the full program here: 
https://dezwijger.nl/progr…/indigenous-liberation-day-2022
Indigenous Liberation Day is organised on a yearly basis by Aralez in collaboration with Indigenous Diaspora, solidarity organisations and activists.